Hello peeps aagyi me..
Kl phir response km tha thoda sa bilkul ittu sa..kher chhodo tu to saadi care ni krda😅)
@stuti Abigail tyagi ..dear u told me to add special riansh moments then i thought i have given that already so many so why not to try new so i m.giving this epi hope u will like it
And here i m giving you a dukh bhari khrb don't cry plz i m already crying…
Due to my some personal reasons i am ending this ff today and not sure about others also.. this is last epi don't scroll down plz last epi hai pura pdh lena or comments bhi kr dena plz ..i didn't wanted to end but situations bn gyi esi..so.. Sorry guys
Enjoy the  aakhri chapyy
Scene 1
VR mansion
In morning
Everyone is present in hall
Vansh – I have planned an outing on juhu beach for everyone and vyom along with anaisha is also coming
Go and get ready everyone..
Everyone departed to their rooms
Scene 2
Riansh's room
Vansh is getting ready and riddhima hugs him from behind
Vansh (teasingly) – someone is getting romantic umm…not bad Mrs. Raisinghania
Riddhima (facing him) – thnk you so much vansh…for this outing i really need that..
Vansh (kissing her forehead) – I know that's why i arranged it..
Come let's go..
Scene 3
Everyone is leaving VR mansion
Riddhima goes to siya
Riddhima (Keeping her hand on siya's shoulder) – This is a chance for you siya for realizing your feelings
Vyom is coming spend some time with him..
I hope you got my point
Siya (nervous) – I will try my best bhabhi.!!
They leaves for beach..
Scene 4
At beach..
Angre and riddhima are running behind each other playing like a kid
And ishani and vansh are watching them as if they are alien
Vansh – Go and get your husband ishani😏
I want to spend some quality time with my wife
Ishani – Let them stay together na bhai..
After riddhu's comeback they didn't get the time to spend together
Angre have told me how they both used to go to beach and play there in childhood
Let them cherish those moments together..
She becomes sad saying this
Vansh (looking at ishani) – I am sorry princess
Ishani – Why are you saying sorry bhai..
Vansh (smiling sadly) – I know why are you sad seeing them together..
As a brother it was my reposnsiblity to be with you
But i never had time to make memories with you and siya
I was so busy in my work that i forgot money is not enough always
We need to give our time and love to our loved ones also..
Look how happy they are reminizing past memories
And look at us we don't have any such memories..
I am sorry Princess
A lone tear escaped from his eyes
Ishani (weeping his tear) – It's nothing like that bhai..
After papa's death it was you who stand by us
You did all the sacrifice for us
You lost your childhood for us..
When child play in their life you did work for earning money to feed us..
I don't have papa's memories much but i have memories with u
How you used to protect us like a father when you yourself was a child
You have spent so many nights staying awake so that we stay safe and sound
We don't have this kind of beautiful memories bhai but we have lived our both happy and painful moments with each other..
You remember when siya used to cry for papa and anu mom was being busy in work
How we both used to sing lullaby for her and make her sleep
Although you were worst singer ever..but we have this memories bhai.. Don't say sorry plz..
Vansh hugs her tightly
Ishani (breaking the hug) – What if we don't have past memories but we can create memories right now
Saying this she starts running teasing vansh and vansh started chasing her..like a kid
Everyone is just awe seeing them together
Siya (pouting) – Not fair you both forgot me na..
Ishani and vansh pounce on her..and started tickling her
Vishani – How can we forget our baby siyu..
Trio tease each other and play..
Scene 5
Riddhangre are walking on beach holding each other's hand and riddhima kept her head on angre's shoulder
Riddhima – After so much time we got this peaceful time with each other na bhai.
Angre – i am so happy riddhu that we got this time …
Can i ask you something
Riddhima – Ask na bhai.you have full right
Angre – Are you happy with vansh bhai..
Riddhima(smiling) –
You know my answer bhai..
Vansh is best for me..
Ok i agree we have something not settled between us but we are happy with each other
Don't worry..
And yeah today we won't talk about anyone except us..
We got this time..and i want to spend this with you..
You always supported me bhai
When you yourself was a kid you became my father..
I can't pay back to the N numbers of sacrifices you made for me
You used to stay hungry when we ran out with food sometimes
You remember how we both used to come here and play in childhood
Angre (teasing) – And you used to cry on silly talks
My cry baby riddhu..
Riddhima (pouting) – Not fair..
Angre – Then what is fair
Riddhima (splashing water on him) – This…
She started running and angre chases her like a lost puppy..
Scene 6
Vyom is walking alone on beach
Siya comes beside him and holds his hand and started walking with him
Vyom didn't refuse and keep walking with her
Siya – Vyom you miss your wife na
Vyom (smiling) – Sometimes..
But my baby resembles her so much so i don't miss her that much
Siya – Why are you still alone vyom..you also need someone with whom you can share your pain and happiness na..
Vyom- who told you that i am alone..
Tum ho na mere pass..
Siya (blushing) – Yes..i am.with you but..the place of life partner is different na
Vyom – I don't know but i am happy to have you on my side
Even my baby loves you alot..
Thank you so much siya for being with me..
I can't imagine my life without you..
You are my best friend
Siya- I will always with you vyom..
Thank you so much for Completing me
Vyom (perplexed) – Means!!
Siya (smiling ) – Nothing!!
Her pov
I was a dumb that i couldn't realize it before.
I love you Mr.vyom kapoor. I love you so much
Finally i sorted out everything i am so happy..(told u na mera ff khtm ho jayega pr isko smjh ni ayega pr aj ff khtm hora or isko smjh agya)
I promise vyom i will fullfill your life with all the happiness you deserve…
I will always with you and your baby..Upss!! Sorry our baby..
Pov ends
Scene 7
A 4 year boy is playing with his parents on beach and ishani is wathcing them with moist eyes
Suddenly angre comes from behind and hugs her
Angre – Don't cry jaan….
Ishani (weeping her tears) – If that incident have not taken place then we must be playing here with our baby like that na..angre..
Angre (kissing her forehead) – I am sorry jaan..
I couldn't be a good husband and father..
It was my duty to protect you and our baby and i failed miserably
Ishani (cupping his face) – Don't blame yourself angre..
It was inevitable..
No one was at fault
It was our fate..
May be..we don't have the happiness of becoming Parents in our life
Angre hugs her tightly
Angre – Don't worry jaan
I am sure very soon we will be blessed again with a baby
We will have our princess soon
Ishani (pouting) – But i want a prince like you
Angre (teasing) – We will have both..
Afterall it's totally depend on us how much hard work we do😉
Ishani hits him playfully and both hug each other…
Scene 8
Riddhima is making sand castle..and vansh is adoring her..
Riddhima (glaring him) – Stop staring me and help na vansh..
I want to make this castle..with you
Vansh (holding her hand) – you know riddhima you will make this castle and very soon a wave will come and destroy it..
I don't want to make a home like this which easily get destroy just by a storm
I want to make a home with you in which we will be together for next sever birth
Meri duniya bohot badi hai riddhima par mujhe us duniya me nhi rhna..
Me tumhare sath ek choti si duniya basana chahta hu jaha sirf hum dono or hmare pyar ki nishani..ho..
Jaha hm apni aakhri saas tk Ek dusre ke sath rehe ske…
Riddhima (with tears) – Vansh will you leave me if i won't be able to match your expectations..
Vansh (smiling) – Love is not changing someone
Its all about excepting someone with their flaws…
I will be with you..till my last breath..
Riddhima (hugging him) – You gave the meaning to my life vansh
My life was meaning less before meeting you..
I don't know what destiny has store for us
All i can say is..i am yours and you are mine for next seven births and so on if we will have any..
Vansh kisses her on forehead and they both make sand castle..carving name "RIANSH" On it..
Scene 9
Anupriya and Dadi is sitting on shore playing with anaisha
Anurpiya – Why are you smiling this much mummyji.. (ye dono bhi hai meko yaad aya😂)
Dadi – Just look at my children how happy they are with each other..
What else i want..
Now if god will call me to him i won't have any wish or guilt..
Anaisha (cutley) – Badi dadi !! I won't let you go..to my sejal mumma!!
You will stay with me na.
Dadi (smiling) – Yes beta..i will be with you
Anupriya – Now I have just one wish that my vansh and riddhimaa also get a cute baby like anaisha.. then their family will be complete
My vansh already suffered alot in his childhood
I want to see his lost childhood in his child..
He will be best father in the world i am sure..
Dadi and anupriya smiles seeing their children happy and safe..
Scene 10
Riddhima holds everyone's hand and takes them on beach singing
Yaadon ki baraat nikli
Hai aaj dil ke dwaare
Dil ke dwaare
Sapnon ki shehnai
Beete deeno ko pukare
Dil ke dwaare
Ho o o chedo tarane
Milan ke pyaare pyaare
Sang hamare
Ishani comes and dance with everyone giving side hug..
Ho badle na apna
Yeh aalam kabhi
Jeevan me bichadenge
Na hum kabhi
Siya looks at vyom singing
Yunhi jaoge aakhir
Kahan hoke hamare
Yaadon ki baraat nikli
Hai aaj dil ke dwaare
Dil ke dwaare
Sapnon ki shehnai
Beete deeno ko pukare
Dil ke dwaare (i really felt bad for siya in yesterday's epi)
Anupriya and dadi bless everyone singing
Aage bhi hoga jo uska karam
Yeh din to manayenge
Har saal hum
Apne angan nache
Gaayenge chanda sitare
Vansh wraps his arms around everyone they makes circle and dance
Yaadon ki baraat nikli
Hai aaj dil ke dwaare
Dil ke dwaare
Sapnon ki shehnai
Beete deeno ko pukare
Dil ke dwaare.
THE END!!!!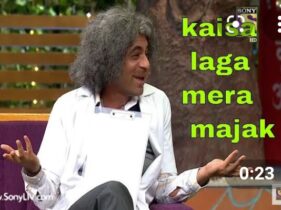 Ullu bnaya bda maza aya😂😂
Don't throw juta chappals yrr i was getting bore so thought to do a prank.. sorry for this ghatiya mazak
Itti jldi picha ni chhodungi abhi jhelna hai meko..tum logo ko..
So i m giving an announcement here .. It's not prank i m serious
I have to focus on my new story and i don't want to discontinue my both the ff so i m taking a break of 1 week from TU and watty so that i will make a episode bank of both ffs and then start new story without disturbing other ffs..
I hope you will support me..
Jb me ek hafte bad waps au to sb apne eye lashes bicchaye intezar krte milna ha..bhul to ni jaoge na meko..(shit i m behaving as if this is my bidai😂😂)
I will  post an Os which i already written when i will feel to post
But next FFs updates will be on next monday…after a week..miss krungi me sbko..pr i will be present as reader..
—-ek bat or kisi ne riansh ki deal k bare me ni pucha..mene socha tha next revelation wahi hoga pr ab thik h kisi ne ni pucha to rhne dete h 😅
Till my come back keep missing me..
Lob u all